Dynazenon! Battle, Go!The pilots before engaging in combat.
Combine Dragon Dynazenon (合体竜人ダイナゼノン, Gattai Ryuujin Dainazenon), or simply Dynazenon (ダイナゼノン, Dainazenon), is a giant robot belonged to Gauma in SSSS.Dynazenon. The robot was entrusted to the former member of Kaiju Eugenicists by an unknown female benefactor 5000 years ago, someone whom Gauma wished to meet again. Unfortunately, this turn of events resulted him and his former comrades became bitter enemies.
Appearance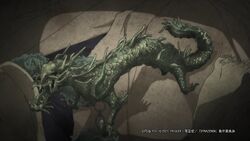 Dynazenon is a red, gray, and golden massive mech-type Assist Weapon consisted of four smaller vehicles; a humanoid dragon-themed core robot, a rectangular race car with proportionately large wheels, a fighter jet, and a submarine with double propellers. They can be shrunk into toy-sized when not needed.

When Gauma received Dynazenon from a mysterious benefactor who helped him combating Kaiju Eugenicists, it originally appears as unassuming yet beautifully made Chinese dragon ornament.

In its default humanoid configuration, the core robot forms head and upper chest, while race car the arms, fighter jet breastplate, and submarine the legs. As Dynarex, on the other hand, core robot forms the head, chest, and clawed arms; submarine lower body and legs, fighter jet head crest and wings, and race car the bulky tail.
Combination & Components
Gallery
Trivia