"youthful beautiful" is the ending song of SSSS.GRIDMAN. It is performed by Maaya Uchida, and was written by RIRIKO.[1]
Lyrics & Music: RIRIKO
Vocals: Maaya Uchida
Arrangement: Yusuke Shirato, RIRIKO
Guitar: Yuki Nara (F.M.F), RIRIKO
Bass: Ryosuke Nikamoto
Drums: Yuto Sakiya
Although it officially premiered with the second episode, it quietly played over some scenes and character dialogue in the first episode.
The song was released as a CD single, and as a DVD limited edition which included the music video. The side-B song on the single release is "Kimi no Heroine de Iru Tame ni" by Masayoshi Oishi.
Maaya Uchida also was one of the singers on the ending theme "Inside Identity" for anime Love, Chunibyo & Other Delusions, on which she did the voice of Rikka Takanashi. She has sung character songs for other anime that she has been a voice actor, including Is the Order a Rabbit?, and Robot Girls Z. 
RIRIKO also wrote and sang the opening theme "Sono Saki e", for anime Children of the Whales.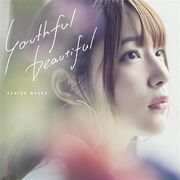 Lyrics
Kanji
Romaji
English
崩れてしまいそう

見つめる景色 空の青さも全部

汗ばむ季節の 虚無感の答え

誰も知らないんだな

思い出せなくってもきっと僕らの出会いは

-Youthful-

どこかで何かでつながれていた

-Connected-


明日明後日 その先だって隣で

君が待っていてもいなくても 走るよ

このまま足を動かせば 光になる

すぐに消えそうな一瞬はこんなにも

美しかったか 愛せていたか

心の穴を満たして

kuzurete shimaisou

mitsumeru keshiki sora no aosa mo zenbu

asebamu kisetsu no kyomukan no kotae

dare mo shiranain da na

omoidasenakutte mo kitto bokura no deai wa

-Youthful-

dokoka de nanika de tsunagarete ita

-Connected-

ashita asatte sono saki datte tonari de

kimi ga matte ite mo inakute mo hashiru yo

kono mama ashi o ugokaseba hikari ni naru

sugu ni kiesouna isshun ha konna nimo

utsukushikatta ka aisete ita ka

kokoro no ana o mitashite
Gallery
References
Community content is available under
CC-BY-SA
unless otherwise noted.